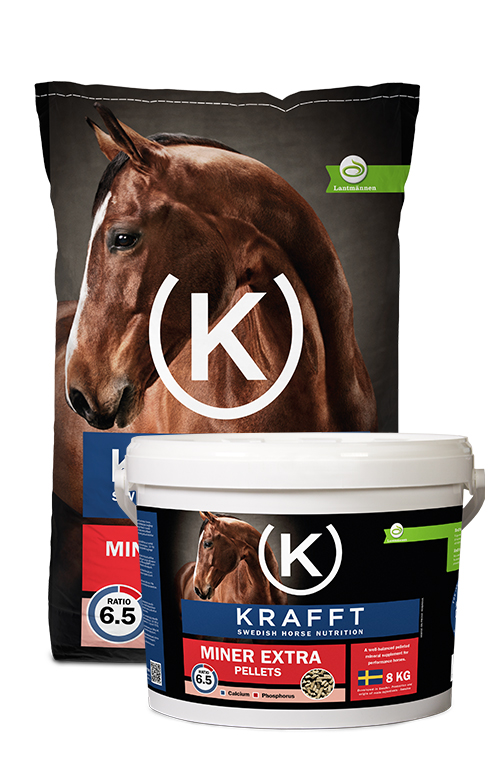 A well-balanced mineral supplement for high-performance horses, if the mineral content of the forage and concentrate portion is insufficient. A suitable allowance should be based on the mineral values of the forage and concentrate and the horse's work, growth and whether it is with foal/lactating.
Available as 20 kg sack and 8 kg bucket.
GMO free raw materials, read more about GMO here.
Feeding guide
A guideline for a pony is approx. 90–120 g/day, for adult horses at normal work approx. 120 g/day, and for adult horses in hard work approx. 120–180 g/day.
1 dl weighs approx. 80 g.
Feed with 1–1,5 kg drymatter roughage/100 kg horse and day as base.
For individual advice, call or e-mail Krafft Direct: +46 10 556 30 40 or direct@krafft.nu.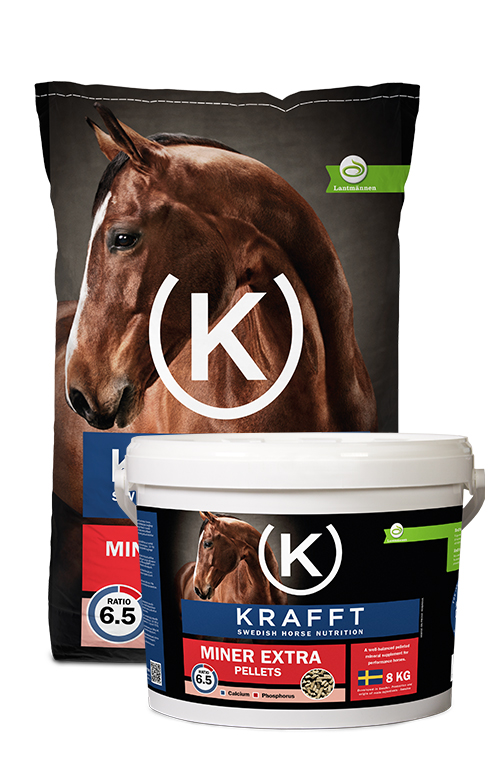 Nutritious content /kg
| | |
| --- | --- |
| Calcium | 11 5 |
| Phosphorus | 1,7 % |
| Calcium/phosphorus quota | 6,5 |
| Magnesium | 6 % |
| Sodium | 5 % |
| Crude ash | 61 % |
Additives /kg
| | |
| --- | --- |
| Iron, (sulphate) | 600 mg |
| Iodine, (kalciumiodine) | 3 mg |
| Cobolt, (carbonate) | 10 mg |
| Copper, (chelate with aminoacids) | 690 mg |
| Copper, (sulphate) | 510 mg |
| Selenium, (selenite yeast) | 7,5 mg |
| Selenium, (sodium selenite) | 7,5 mg |
| Manganese, (oxide) | 1000 mg |
| Zinc, (oxide) | 2500 mg |
| Vitamin A | 200 000 IE |
| Vitamin D3 | 10 000 IE |
| Vitamin E | 15 000 mg |
| Vitamin B1 | 250 mg |
| Vitamin B2 | 250 mg |
| Vitamin B6 | 50 mg |
| Vitamin B12 | 2,5 mg |
| Calcium panth | 125 mg |
| Niacin | 250 mg |
| Folic acid | 70 mg |
| Biotin | 2 mg |
| Vitamin warranty | 12 months |